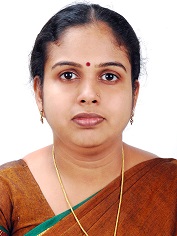 Jeena.N.Janardhanan
| | |
| --- | --- |
| Name | Jeena.N.Janardhanan |
| University | VPSV Ayurveda Medical College |
| Country | India |
| Position | Editorial board member |
Biography
Associate Professor & Head, Department of Head&Neck,Ophthalmology&ENT, VPSV Ayurveda Medical College, Kottakkal,India, which is a pioneer institution in the field of Ayurveda established in 1917 and presently affiliated to Kerala University of Health Sciences, India.
Achievements:
Member, Faculty of Ayurveda, University of Calicut, India
Member, Board of studies, University of Calicut, India
Member, International Organization of Hirudotherapy, Moscow
Member of panel of experts, First Russian Ayurveda Congress,Moscow in April 2013
Organizing Committee Member and moderator cum speaker at the 6th International Conference on Natural and Alternative Medicine Conference held at Beijing, China in September 2016
Organizing Committee Member and invited speaker at the First World Hirudotherapy Congress held at Moscow in September 2013 as well as second World Hirudotherapy congress held at Moscow in October 2016
Key note speaker in 6th International conference on Herbal diabetes held at Bangkok, Thailand in November 2017
Speaker in different National and International Conferences for the last 12 years.
Research Interest:
Currently doing research work in:
Clinical trial on efficacy of Leech therapy in treating scleritis and episcleritis.
Clinical trial on the efficacy of Ayurvedic medicines in Diabetic Retinopathy
Clinical trial on efficacy of leech therapy in managing periodontitis
Efficacy of herbal medicine gargle in Radiotherapy induced oral mucositis in Head and Neck Cancer.
Efficacy of herbal medicine in correcting refractive errors in children.